HOME – After all, taking care of the litter box or buying kibble are household chores like any other. And unsurprisingly, an Ifop study carried out for the Vetocanis brand and unveiled this Thursday, June 9 confirms this: 81% of women believe they do more than their spouse in chores related to pets.
For François Kraus, head of the "Gender and sexuality" division at Ifop, it makes sense. "Even if the choice of a pet is often a collective decision, it is ultimately the woman who most often bears the burden, he underlines. Because it is to her that gender stereotypes assign the responsibility for the good running of the house."
This study therefore only highlights the same inequality between the sexes that is found in the management of household tasks in general. "Caring for animals also obeys the logic of 'care', which applies to children and the elderly, he develops, which is mainly concerned with the fairer sex.
Croquettes, litter, toilet, veterinarian…
In detail, 64% of women buy more everyday products for the animal(s) – kibble, treats, necklaces, toys. 59% of them take care of making appointments with the veterinarian and 55% manage the care of the animal during the holidays.
31% of French couples interviewed by the study admit to having already argued because of tasks related to a pet. It is among the under 35s that there are the most conflicts: 46% of them have already taken the beak on this subject.
Disputes that can sometimes go as far as separation: 15% of respondents have ended a relationship because their spouse did not get along with their pet. 14% because one or the other did not want to have one. And 10% because the tasks related to it were not evenly distributed.
The total proportion of people for whom caring for animals played a role in a romantic separation is 16%. It is 42% among 18-24 year olds, once again over-represented.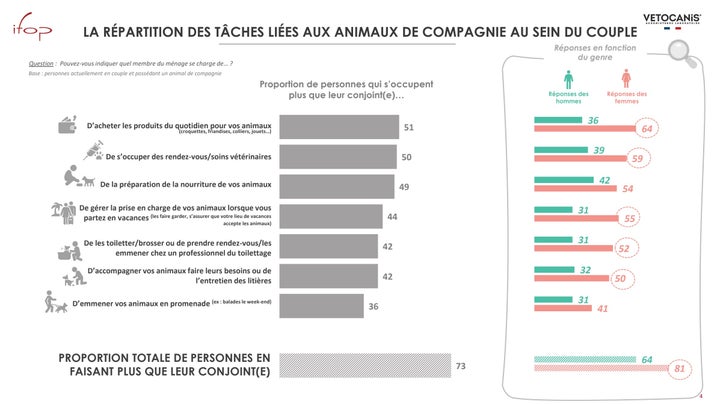 Seduce with an animal
Conversely, 23% of respondents admit to having used their pet to seduce someone: either to start a conversation with a person they liked (16%), or to show this person that they had a point in common (15%) or even to soften it (12%).
Once again, they are more numerous, 43%, among 18-24 year olds. Men do it a little more than women, since they are 26% to use their animal to seduce, against 21% of women. And it seems to work relatively well, since 17% of French people say they have already started a relationship with someone thanks to their interest or the possession of animals.
Among those under 35, this figure rises to 25%, or a quarter of them. On the other hand, the study specifies in a question dedicated to this subject that only a third (28%) of the people questioned would be ready to have sexual intercourse while being observed by a pet.
The survey was conducted on May 24 and 25, 2022 by IFOP for Vetocanis among a sample of 1,011 people representative of the French population aged 18 and over, including 963 people who own or have owned pets.
See also on The HuffPost: During the war in Ukraine, the animals cared for by these Polish veterinarians
.