NDT

>




Animals



published by Fanny on June 18, 2022 at 5:29 am
Very close to the alligator snapping turtlethe snapping turtle is also fierce and quite aggressive. These turtles certainly do not live where there are too many humans, they are so fearful (like all reptiles). However, it sometimes happens that we find some not far from the houses. We had, for example, found some in the Pyrénées-Orientales. But, for a few days, it's en Gironde (33) that this reptile is rampant.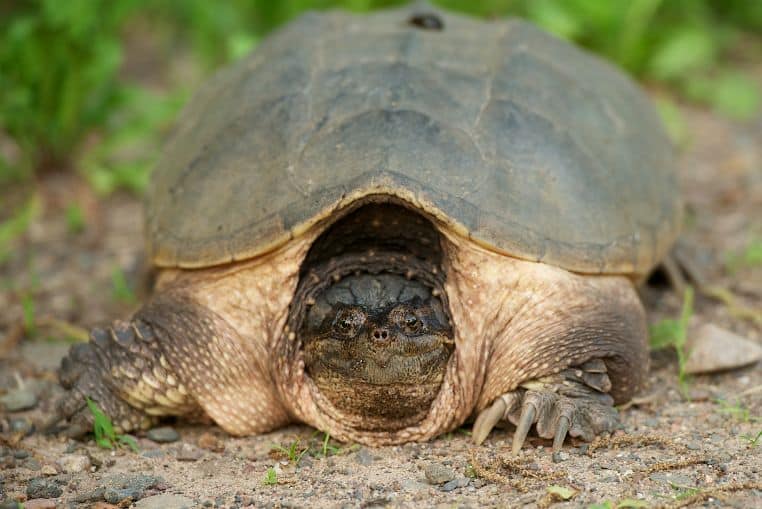 The snapping turtle: a dangerous reptile?
Very far from being a sea monster, as you might have thought, the snapping turtle is a simple freshwater turtle native to the United States and Canada. Usually she lives in ponds, lakes or streams. Finally, the latter was introduced in France a short time ago. It was a breeder who had released this species into the wild. Since then, the snapping turtle has reproduced in France.
Thus, it is no longer very rare to find them in our regions. Ferocious and aggressive when it feels in danger, the snapping turtle is not particularly dangerous if we leave her alone. Nevertheless, his sharp jaw can inflict very serious injuries. Sharp as a razor, its jaws can cut through objects much tougher than human skin.
A reptile that can measure between 20 and 36 cm for a weight of 4 to 16 kg. Generally, it eats invertebrates, snakes, other turtles, frogs and sometimes birds and mice. Note that the female snapping turtle can lay between 20 and 40 eggs at each spawning. Thus, they are not ready to die out on the territory.
An invasion of turtles in Gironde
And for once, the snapping turtle is raging in France at this very moment, and particularly in Gironde (33). Currently, the town hall of Carcans has launched an alert concerning snapping turtles near the Maubuisson road, towards the Lambrusse stream. "As it is a species fearsome, aggressive and may cause serious injuries, do not intervene yourself! »indicates the municipality.
"This species has adapted perfectly to our climate and region and it reproduces since dyoung snapping turtles have been seen in Gironde. I captured a young one in 2021 in a fish pond in downtown Carcans. She ate goldfish as well as birds as corpses came to the surface. When I was alerted, I immediately understood what species we were dealing with. The snapping turtle is essentially carnivorousit is a fearsome predator that attacks our local wildlife (amphibians, reptiles including the harmless pond turtle, etc.). The power of his jaw is formidable"also declared Jean-Claude Pomies, former environmental inspector in Gironde.
Please note that you have absolutely no right to harm these turtles. Their hunting is also prohibited to save their species. Nevertheless, some believe that they should be placed in natural parks in order to limit their impact on wildlife. However, if you see one near your home, be very careful and call the proper authorities if you're afraid she's getting too close to you.