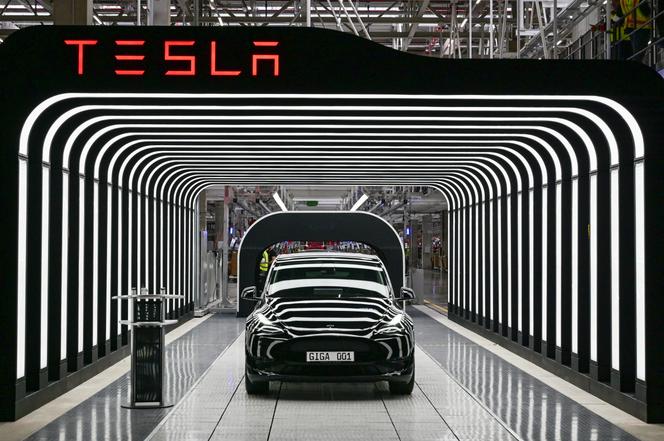 Elon Musk could not have dreamed of brighter times for the launch of his Gigactory, the Tesla Group's European electric vehicle factory. Tuesday, March 22, not a cloud veiled the intense light of the spring sun, in Grünheide, near Berlin, in the Brandenburg region, when the eccentric industrialist came to celebrate a historic day: the exit from the assembly lines of the first Tesla made in Germany, two years and four months after announcing, in November 2019, the choice of location, all without any subsidy.
The Berghain of the automobile: How Elon Musk manages to mix Berlin club culture and cutting-edge industry at the p… https://t.co/VSHsfNfEXG
Two weeks earlier, the local authorities had granted the green light subject to conditions for this factory built so far with a provisional permit. Three thousand employees already work on the site, which will eventually be able to produce 500,000 vehicles per year. Upon entering the gigantic building, one wonders if one has not mistakenly entered one of these Berlin temples of techno, which combine industrial aesthetics and minimalist lighting.
Vibrant youth
The music is, in any case, the same. And the public, composed mainly of employees of the group, is almost identical, yellow vests branded "Tesla" and more. The average age must not exceed 29 years, we speak English, German. They are mostly men. The arms are covered in tattoos, the beards have been neatly trimmed, and the hair is perfectly styled across the foreheads. Everyone crowds around the tunnel of luminous panels which houses the inaugural Model Y, one of the thirty vehicles which must be given to the first customers – most of the factory employees – by Elon Musk himself.
The moment becomes a techno performance, a tribute to both Detroit and Berlin, which at the same time revisits and makes old-fashioned all the codes of the German automobile. In Wolfsburg, Stuttgart and Munich, traditional bastions of the sector, it will be difficult to align with this vibrant youth. In the background, the production part seems to glow under its ultra-white lighting. Only a few red articulated arms come to slice the variations of gray and white typical of the Tesla and SpaceX universe. Nothing seems to have to yield to the aesthetic codes of the brand.
Suddenly, heads turn, a delegation enters. " Old people ", sigh three young people, visibly disappointed. The chancellor, Olaf Scholz, the president of the Brandenburg region, Dietmar Woidke, and the economy minister, Robert Habeck, have just arrived. The real pop star of the day will have to wait a few more minutes. When Elon Musk, unusually dressed in a suit, enters the stage, the show can finally begin.
You have 51.3% of this article left to read. The following is for subscribers only.